Pregnancy Chiropractic in Rockton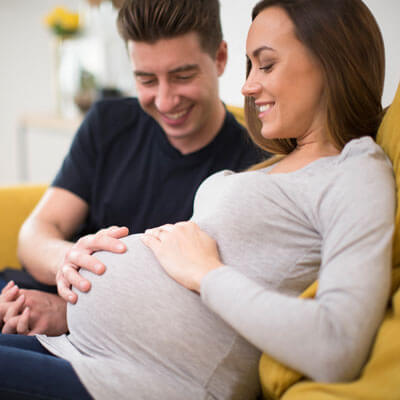 When you're pregnant, you want to be relaxed, comfortable and as healthy as you can be. Chiropractic can be the solution to all of these and more. Taking risky medications or getting a flu shot isn't something you want to resort to doing. With our care, we can make sure your nervous system adjusts to the changes in your body.
As your body adapts to your growing baby, you might have aches and pains. You don't want to feel stressed because you know your baby will feel it too. Chiropractic can ensure you have a relaxing pregnancy experience. Studies even show that chiropractic patients have an easier labor and delivery!
We Understand How Challenging Pregnancy Can Be
Dr. Andrena is a mom of three. She can relate to what you're going through, though we know every pregnancy is different. We want to be here for you each step of the way through your pregnancy. If you're bedridden, find it tough to come in for appointments or want to get adjusted during your labor, Dr. Andrena will come to you. We'll make sure your adjustments are easy and convenient for you!
FAQ
Why is my nervous system so important?
Your baby feels your every thought and action. If you are in a survival, fight or flight mode instead of one of rest and relaxation, your baby will feel the same. You're connected, so making sure you're able to heal is vital for your baby's health.
How often will I need to come in?
The frequency of your visits will depend on your unique needs. Further along in your pregnancy, we may recommend weekly visits. If your baby is breech, extra adjustments in the last few weeks might be best.
What we do isn't about turning the baby. We'll work with Mom's pelvis and the ligaments that attach to the uterus. The result of these efforts is a higher likelihood that the baby can get into the right position for birth.
We have a table specifically designed for pregnant women. You can lie comfortably on your belly on these tables while your baby is completely safe.
What kind of techniques do you use on expecting moms?
We can utilize many of the same techniques that we use on our other practice members. We'll always tailor what we do to the technique that's appropriate for you. Dr. Andrena uses the Webster Technique to calm down the ligaments that attach to the uterus and align your lower pelvis.
Contact Us Today
Learn more about pregnancy chiropractic Rockton and what it can do for you. Call our team now! We offer free consultations and have same-day visits available.
CONTACT US »
---
Pregnancy Chiropractor Rockton IL | (815) 957-0737